Enjoy horseback riding at Koli Equestrian Center, located in the heart of the Gila River Indian Reservation and adjacent to The Sheraton Grand at Wild Horse Pass. We are located on the west side of the hotel, which is directly behind it. We have several group horseback trailriding times or you can reserve a private horseback trailride for any time. We look forward to out of town guests, as well as our local communities.
Check Availability and Book Online Now!
You can find us on Google Maps or MapQuest by entering KOLI Equestrian Center instead of our address (being on the reservation the address takes you to where the mail box is and not our physical location).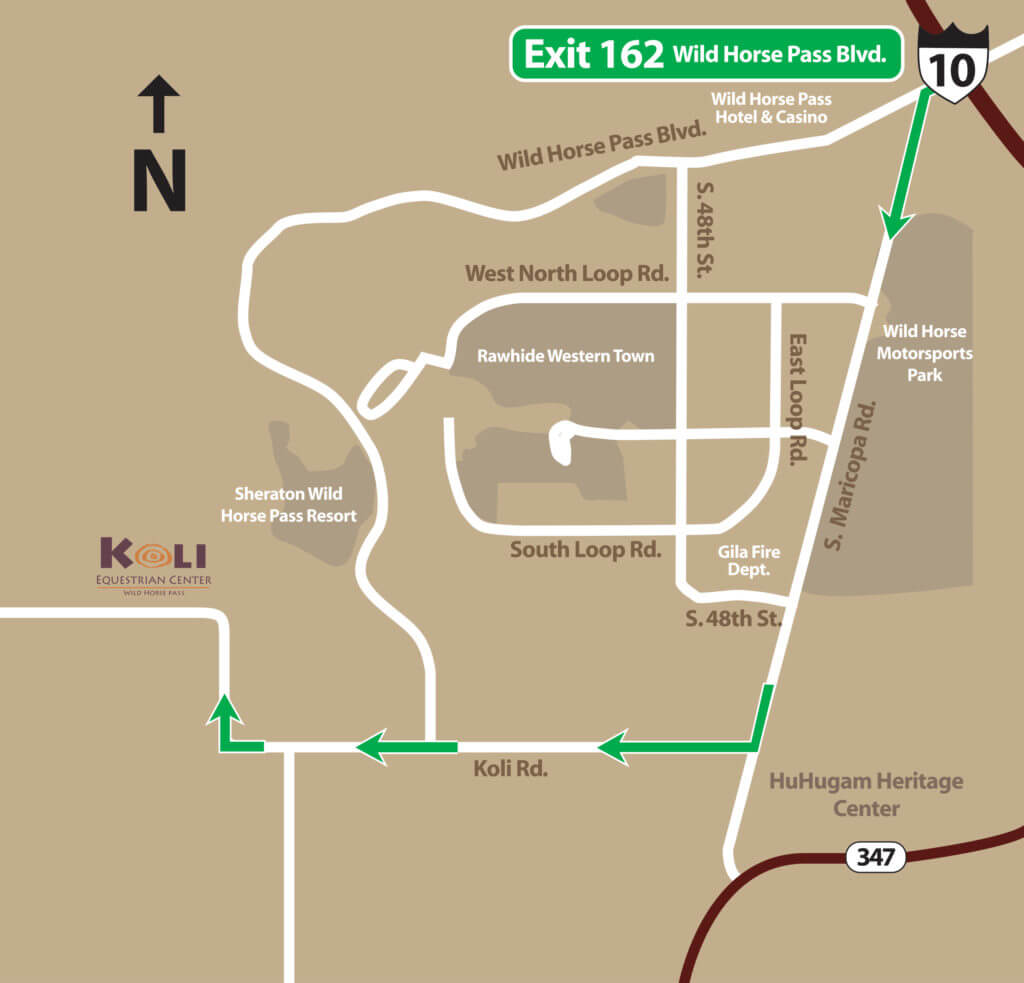 Easiest Directions
Take I-10 to exit 162, which is Wild Horse Pass Blvd.
Head west to first traffic light which will be Maricopa Rd (to the left is a Chevron Gas Station and to the right is the entry to the Wild Horse Pass Casino & Hotel).
Make left turn onto Maricopa Road and head 1.5 miles. You will pass the Gila River Fire Department, which will be on your right. Just a little further you will see Koli Rd Street Sign on the right.
Make a right turn at Koli Rd (cannot turn left) and head to the very end of the road. You will go approx 1.5 miles where the road makes a sharp right turn.
Follow that around and when you get to the stop sign you will see us in front of you.
If you get lost, no worries, just give us a call at 602-796-3495.
We look forward to your horseback trail ride and seeing you soon.
---
Below are points within Phoenix and surrounding areas with estimated miles to Koli Equestrian Center:
Downtown Ahwatukee, Ahwatukee, AZ Approx 8 miles
Downtown Chandler, Chandler, AZ Approx 13 miles
Chandler Municipal Airport, 2380 S Stinson Way, Chandler, AZ 85286 Approx 14 miles
Lone Butte Casino, 1077 S. Kyrene Rd, Chandler, Arizona 85226 Approx 5 miles
Sheraton Wild Horse Pass Resort, 5594 W Wildhorse Pass Blvd, Chandler, AZ 85226 Approx 2 miles
Stellar Airpark, 4306 W Jupiter Way, Chandler, AZ 85226 Approx 8 miles
Wild Horse Pass Casino, 5040 W Wildhorse Pass Blvd, Chandler, AZ 85226 Approx 3 miles
Fort McDowell Resort & Casino, 10424 N Fort McDowell Rd, Fort McDowell, AZ 85264 Approx 35 miles
Goldfield Ranch Airport, 12401 N Vista Del Oro, Fort McDowell, AZ 85264 Approx 40 miles
Downtown Gilbert, Gilbert, AZ Approx 19 miles
Downtown Glendale, Glendale, AZ Approx 29 miles
University of Phoenix Stadium, 1 Cardinals Drive, Glendale, AZ 85305 Approx 37 miles
Downtown Laveen, Laveen, AZ Approx 24 miles
Vee Quiva Casino, 6443 N. Komatke Lane, Laveen, Arizona 85339 Approx 22 miles
Downtown Maricopa, Maricopa, AZ Approx 18 miles
Harrah's Phoenix Ak-chin Casino, 15406 N Maricopa Rd, Maricopa, AZ 85139 Approx 21 miles
Schu Ranch Airport, 47259 S 103rd Ave, Mobile, AZ 85139 Approx 27 miles
Downtown Mesa, Mesa, AZ Approx 20 miles
Falcon Field Municipal Airport, 4800 E Falcon Dr, Mesa, AZ 85215 Approx 31 miles
Phoenix-Mesa Gateway Airport, 6033 S Sossaman Rd, Mesa, AZ 85212 Approx 25 miles
Downtown Phoenix, Phoenix, AZ Approx 20 miles
Arizona Grand Resort, 8000 S Arizona Grand Pkwy, Phoenix, AZ 85044 Approx 11 miles
Phoenix Deer Valley Airport, 702 W Deer Valley Rd, Phoenix, AZ 85027 Approx 39 miles
Phoenix Sky Harbor International Airport, 3400 E Sky Harbor Blvd, Phoenix, AZ 85034 Approx 16 miles
Pointe Hilton Tapatio Cliffs Resort, 11111 N 7th St, Phoenix, AZ 85020 Approx 29 miles
Downtown Scottsdale, Scottsdale, AZ Approx 21 miles
Casino Arizona At Salt River, 524 N 92nd St, Scottsdale, AZ 85256 Approx 20 miles
Rio Vista Hills Airport, 10105 E Via Linda, Scottsdale, AZ 85258 Approx 29 miles
Scottsdale Airport, 15000 N Airport Dr, Scottsdale, AZ 85260 Approx 34 miles
The Phoenician, 6000 E Camelback Rd, Scottsdale, AZ 85251 Approx 21 miles
Downtown Sun City, Sun City, AZ Approx 36 miles
Downtown Tempe, Tempe, AZ Approx 15 miles
Arizona Mills, 5000 S Arizona Mills Cir, Tempe, AZ 85282 Approx 10 miles
Phoenix Marriott Tempe at The Buttes, 2000 Westcourt Way, Tempe, Arizona 85282 Approx 13 miles
Tempe Marketplace, 2000 E Rio Salado Pkwy, Tempe, AZ 85281 Approx 19 miles
---
KOLI Equestrian Center
Chuck's Trail Riding Adventures LLC
KOLI EQUESTRIAN CENTER
Office Number: 602-796-3495
Fax number: 520-796-1438
Near Wild Horse Pass Blvd and Maricopa Rd off Koli Rd
You can find us on Google Maps or MapQuest by entering KOLI Equestrian Center instead of our address (being on the reservation the address may take you to where the mail box is and not our physical location).
6940 W Broken Ear Rd Chandler, Arizona
E-mail address: Info@KoliEquestrian.com
BUY GIFT CARD HERE