---
"Carriage Ride for 2"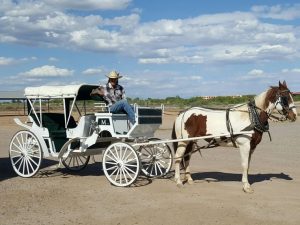 What better way to enjoy the beauty and serenity of the Southwest than on a private carriage ride with your sweetheart? Or do you want a great romantic evening? This signature 45 minute ride is perfect for engagements, anniversaries, birthdays, or that special date. We will provide you with much needed time to reconnect in serene and beautiful surroundings.
---
Hay Wagon Rides
Enjoy a hay Wagon Ride at Koli Equestrian Center, located in the heart of the Gila River Indian Reservation and adjacent to The Sheraton Grand at Wild Horse Pass. We are located on the west side of the hotel, which is directly behind it. We look forward to out of town guests, as well as our local communities. If you are looking for relaxation and fun Koli Equestrian Center is the place to be,book your ride today where a great staff and gentle horses are waiting for you…
Duration of Ride:
Approximately 45 minutes
Price: $25.00 per person.
***Reservations are required 24 hours in advance and there is a 5 person minimum***
We also have several group horseback ride times or a private ride you can reserve for any time. If you might be interested in a horseback ride along with your wagon ride, we can surely help you out there. The regular Wagon Rides do not include a horseback ride, but call us to get special pricing for both.
---
KOLI EQUESTRIAN CENTER
Office Number: 602-796-3495
Fax number: 520-796-1438
Near Wild Horse Pass Blvd and Maricopa Rd off Koli Rd
You can find us on Google Maps or MapQuest by entering KOLI Equestrian Center instead of our address (being on the reservation the address may take you to where the mail box is and not our physical location).
6940 W Broken Ear Rd Chandler, Arizona
E-mail address: Info@KoliEquestrian.com
BUY GIFT CARD HERE