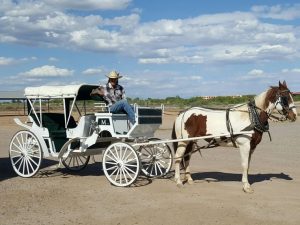 Looking for something different for your next group event?
Rent a wagon that would be an unique addition to any event.  Pick from an intimate carriage, smaller wagons and full flat style hay wagons.
Our wagons with horses are available for a variety of events.  We have several styles to choose from too!
Contact us for pricing and availability at sales@koliequestrian.com
KOLI EQUESTRIAN CENTER
Office Number: 602-796-3495
Fax number: 520-796-1438
Near Wild Horse Pass Blvd and Maricopa Rd off Koli Rd
You can find us on Google Maps or MapQuest by entering KOLI Equestrian Center instead of our address (being on the reservation the address may take you to where the mail box is and not our physical location).
6940 W Broken Ear Rd Chandler, Arizona
Buy Gift Certificate